Izzy Leger is a 9 year old third grade resident of Youngsville who can now add Kid Author to her resume!
Izzy says, "When I grow up, I want to be a surgeon. My favorite food is a snowball. I have a younger sister named Londyn. I want to go to New York one day. It's a huge, beautiful city with lots of stores for shopping."
Izzy's Poem: Snowball below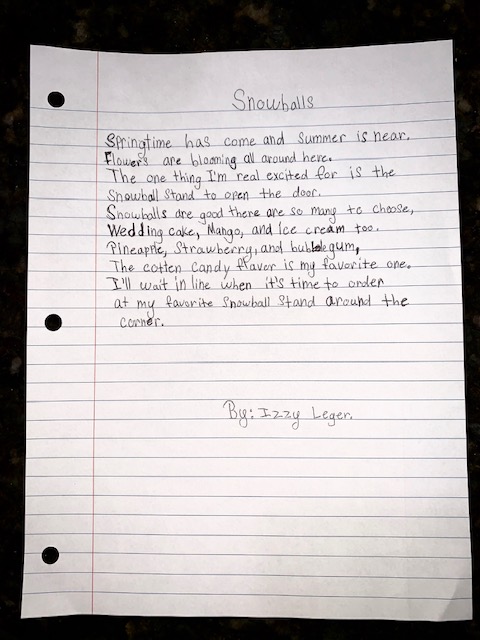 We LOVE your poem Izzy! Cotton candy is my children's favorite as well and since you mention Mango I am going to try that next. Your poem is getting us all excited for summertime fun. Keep up the great work and follow your dreams. You will visit New York before you know it!
Would you like us to publish your child's work? Simply click here and fill out the form.
Macaroni Kid can make it super easy for you to find your family fun all year long. Receive a local calendar of family-friendly events each Thursday evening when you SUBSCRIBE FOR FREE!
You'll be glad you did ... and so will your kids!
For even more fun, find us on Facebook, Twitter, and Instagram
You May Also Like: