Macaroni Kid and the Cajun Heartland State Fair have partnered up to give one lucky winner $100 in ride tickets!!! Want to win a night of family fun? Enter here!
---
The Cajun Heartland State Fair is an eleven-day fair produced by the CAJUNDOME staff offering an exciting entertainment line-up and ride offerings that attract more than 50,000 guests.
The Cajun Heartland State Fair is managed by an innovative and insightful team of professionals priding themselves on knowing the right mix of entertainment arranged to provide maximum enjoyment for all ages. The ride specials, food, free attractions, and family-oriented games make an outstanding summer experience. Truly, there is something for everyone to enjoy at the Cajun Heartland State Fair fairgrounds.
Make your plans to join us for the next Cajun Heartland State Fair scheduled for May 25 - June 4, 2023.
We are excited to continue our partnership with ride operator Gold Star Amusements which will provide numerous super rides and classic favorites fun for the whole family. More information on games and free attractions coming soon. Prizes and surprises await everyone at the Cajun Heartland State Fair!
2023 FAIR DATES & HOURS
FAIR ADMISSION HOURS: (GATE OPEN / GATE CLOSE)
Thursday, May 25th: 5pm-10pm
Friday, May 26th: 5pm-10pm
Saturday, May 27th: 12pm-10pm
Sunday, May 28th: 12pm-10pm
Monday, May 29th: 2pm-9pm
Tuesday, May 30th: 5pm-9pm
Wednesday, May 31st: 5pm-9pm
Thursday, June 1st: 5pm-9pm
Friday, June 2nd: 5pm-10pm
Saturday, June 3rd: 12pm-10pm
Sunday, June 4th: 12pm-8pm
The Admission Gate will close nightly at posted time, no new admissions will be permitted after that. Admission is $5 for ages 6 and up!
Midway rides will continue operation for one hour past the gate closing time.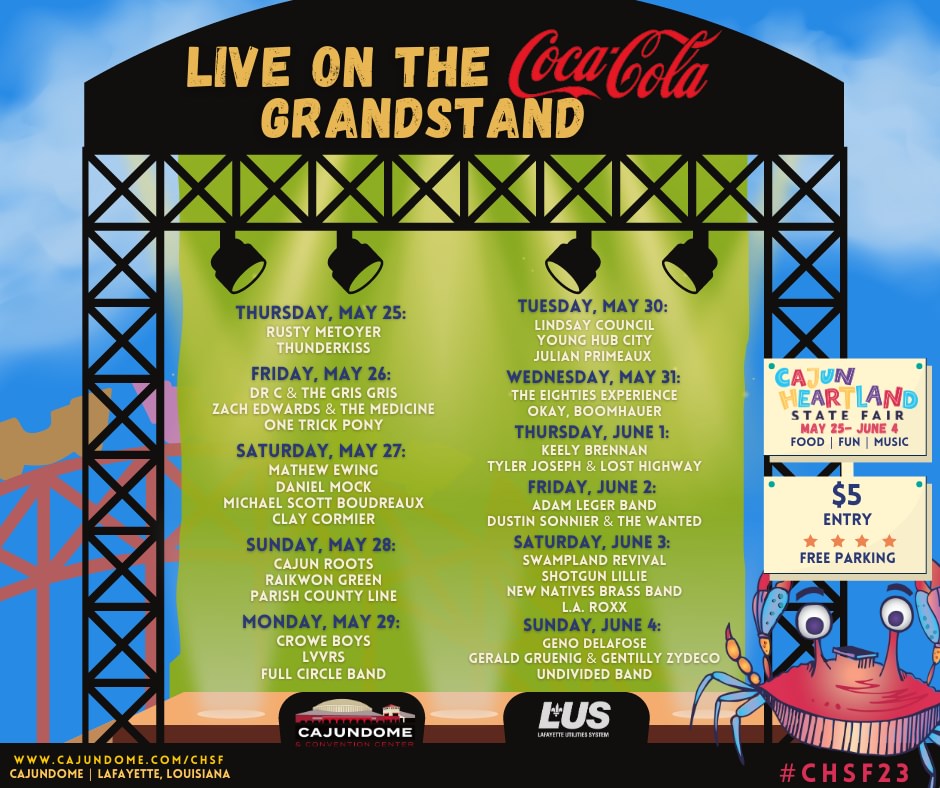 Macaroni Kid can make it super easy for you to find your family fun all year long. Receive a local calendar of family-friendly events each Thursday evening when you SUBSCRIBE FOR FREE!
You'll be glad you did ... and so will your kids!
For even more fun, find us on Facebook, Twitter, and Instagram