Louisiana's Cajun & Creole music, folklife, culture, and outdoor recreation are at the center of daily activities at Folk Roots Kids Camps. Your child can learn to play the accordion, fiddle, guitar, bass, rub-board, and more.
We kick off each morning with a "biscuits & jam" music circle and take a break with a line dance, 2-step, and waltz class. Then it's off to explore the Atchafalaya area nature with scavenger hunts, play music in band groups, and enjoy cool summer snacks during warm afternoons. And there's more!
Campers also enjoy outdoor recreation, crafts, science surprises, and a grand finale performance and dance with families and friends. Best of all, Folk Roots Kids Camps help to keep the unique cultural expressions of Louisiana's Cajun & Creole heritage thriving across generations.
Instrument loans are available, healthy meals and snacks are provided, member and sibling discounts are offered, and making new friends is a guarantee!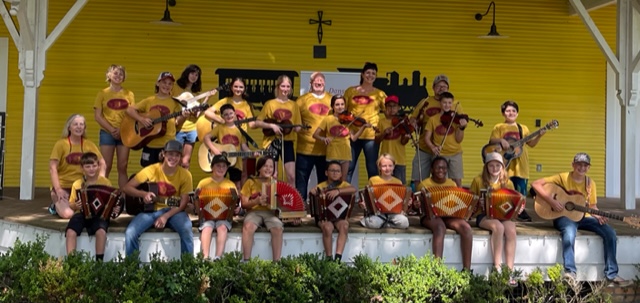 Venez nous voir! Register at LAfolkroots.org/kids-camp
KIDS CAMP @ VERMILIONVILLE, LAFAYETTE, LOUISIANA
9 a.m.-4 p.m. Monday-Friday (June 12-16, 2023)
KIDS CAMP @ LE VIEUX VILLAGE, OPELOUSAS, LOUISIANA
9 a.m.-4 p.m. Monday - Thursday (June 26-29, 2023)
Macaroni Kid can make it super easy for you to find your family fun all year long. Receive a local calendar of family-friendly events each Thursday evening when you SUBSCRIBE FOR FREE!
You'll be glad you did ... and so will your kids!
For even more fun, find us on Facebook, Twitter, and Instagram