WHO
Chorale des Amis' Directors work seamlessly together to provide rich and rewarding choral experiences for singers in PreK-12th Grade. Our Les Petits Amis are directed by Stacy B. Shumaker, and Les Chanteurs and La Chorale will be team-taught by Holly Grefe and Victoria Qualls Atkins. These three highly-qualified directors bring decades of teaching experience and have proudly led their school choir programs to great success over the years. Mrs. Shumaker currently teaches Elementary General Music and Middle School Choir to the students of Milton Elem/Middle School, and holds both Kodály and First Steps in Music Certifications. In addition to her role as CDA's Executive Director, Mrs. Atkins stays busy homeschooling her 4-year-old twins, and serves as Cantor at St. Pius X and St. Basil Catholic Churches. Mrs. Grefe magically manages her esteemed position as Director of Choirs at Lafayette High School and St. Mary Mother of the Church, along with her duties as CDA's Artistic Director. All three directors are beyond excited that Chorale des Amis is back to offer a chance for ALL of Acadiana's youth to COME SING WITH US!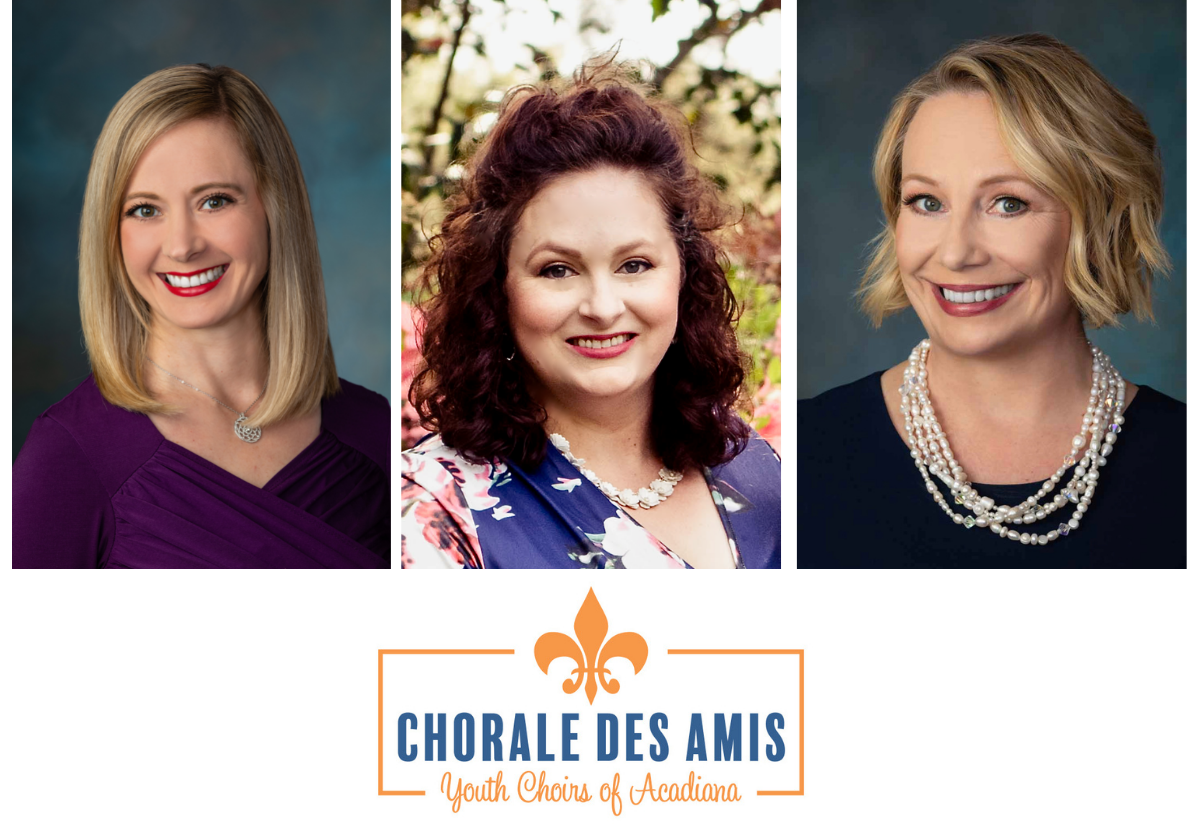 WHAT
Founded in 2017 by Holly Grefe and Ellen McLemore, Chorale des Amis - Youth Choirs of Acadiana, is a non-profit organization which seeks to provide a quality music education for all of Acadiana's youth. School-aged singers from across Acadiana are given the opportunity to grow in healthy vocal technique, high caliber musicianship, performance opportunities, and in their overall sense of confidence and mental well-being. CDA singers meet weekly with curricular goals of Music Literacy, Foundations in Musicianship, Vocal Pedagogy, and building a sense of Local and Global Community.
WHERE
All of Chorale des Amis' regular weekly rehearsals will be held at St. Mary Mother of the Church; 419 Doucet Rd., Lafayette, 70503. Concerts and additional rehearsal/event venues may vary.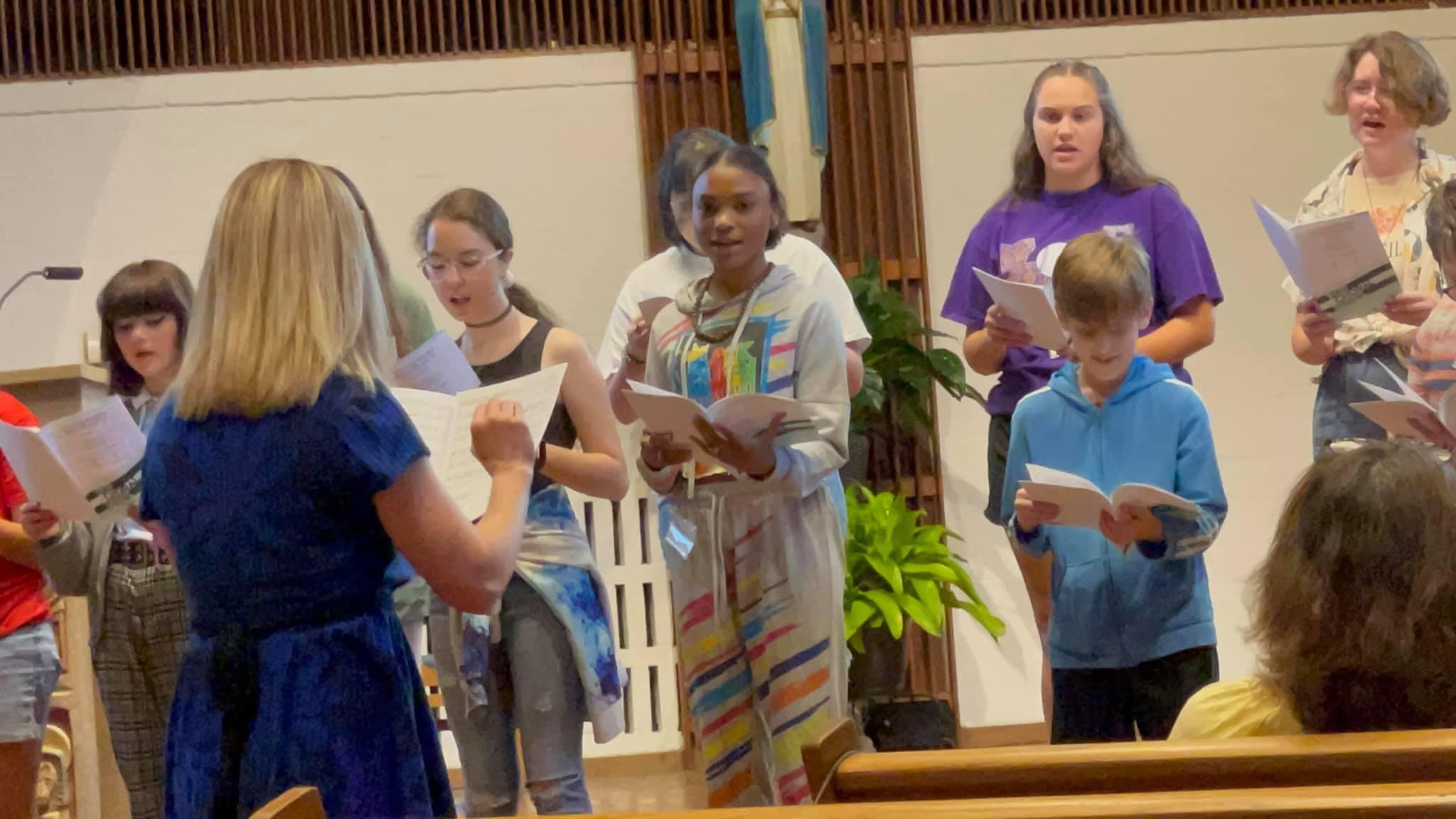 WHEN
Choirs rehearse on Monday afternoon/evening, in accordance with LPSS Holiday and Closure Calendars. Our youngest singers, Les Petits Amis (PreK-2nd Grade), meet from 4:45-5:30 p.m. Les Chanteurs, our choir for 3rd-6th Grade singers, meet weekly from 4:45-5:45 p.m. Our 7th-12th Grade choir, La Chorale des Amis, meets from 6:00-7:30 p.m. Rehearsals begin Monday August 23, 2021.
WHY
There is no shortage of studies proving the impact that a quality Music Education can have on a developing mind. Choir, in a very unique way, is a way to connect body, mind, and spirit in a community of song. Our goal is to make lifelong singers of Acadiana's youth. By rehearsing weekly with a group of like minded students, you will become a stronger singer and leader for your school, even if there isn't a choir! Our directors are passionate educators, committed to helping our students navigate the challenging waters of childhood and adolescence with tenacity and integrity, through the gift of song.
HOW
Registration is now open! Our 21-22 Registration Form, along with fee and tuition information, is available now at choraledesamis.com. Learn about the Choirs we offer for different grade levels, tuition options, more about our Directors, our full Season calendar, and get answers to FAQs by visiting our website. You can also reach us via email at choraledesamis@gmail.com.
Macaroni Kid can make it super easy for you to find your family fun all year long. Receive a local calendar of family-friendly events each Thursday evening when you SUBSCRIBE FOR FREE!
You'll be glad you did ... and so will your kids!
For even more fun, find us on Facebook, Twitter, and Instagram