At Macaroni Kid we genuinely love sharing new products and businesses with our subscribers. With that said, I am more than in LOVE with a new product that helps hydrate children and adults of all ages. Creative Roots is a flavored coconut water that appeals to children specifically with their fruit inspired characters called Sploots. Before we get to the upbeat and cheerful mascots let's talk a little more about what is inside the bottle. As parents we are always searching for beverages that are better for our children. Better than sodas or sugar filled juices with added ingredients and colored dyes, right? Creative roots has all-natural ingredients with 1 gram of sugar*** and 15 calories per one 8.5 fl oz bottle. This week my entire family had the opportunity to try the mixed berry flavor and we genuinely all liked them. It is important to note that there is no coconut flavor present. I say this because I myself am not a fan of coconut and the plain coconut water is not easy to get down. Creative Roots is delicious on the way down!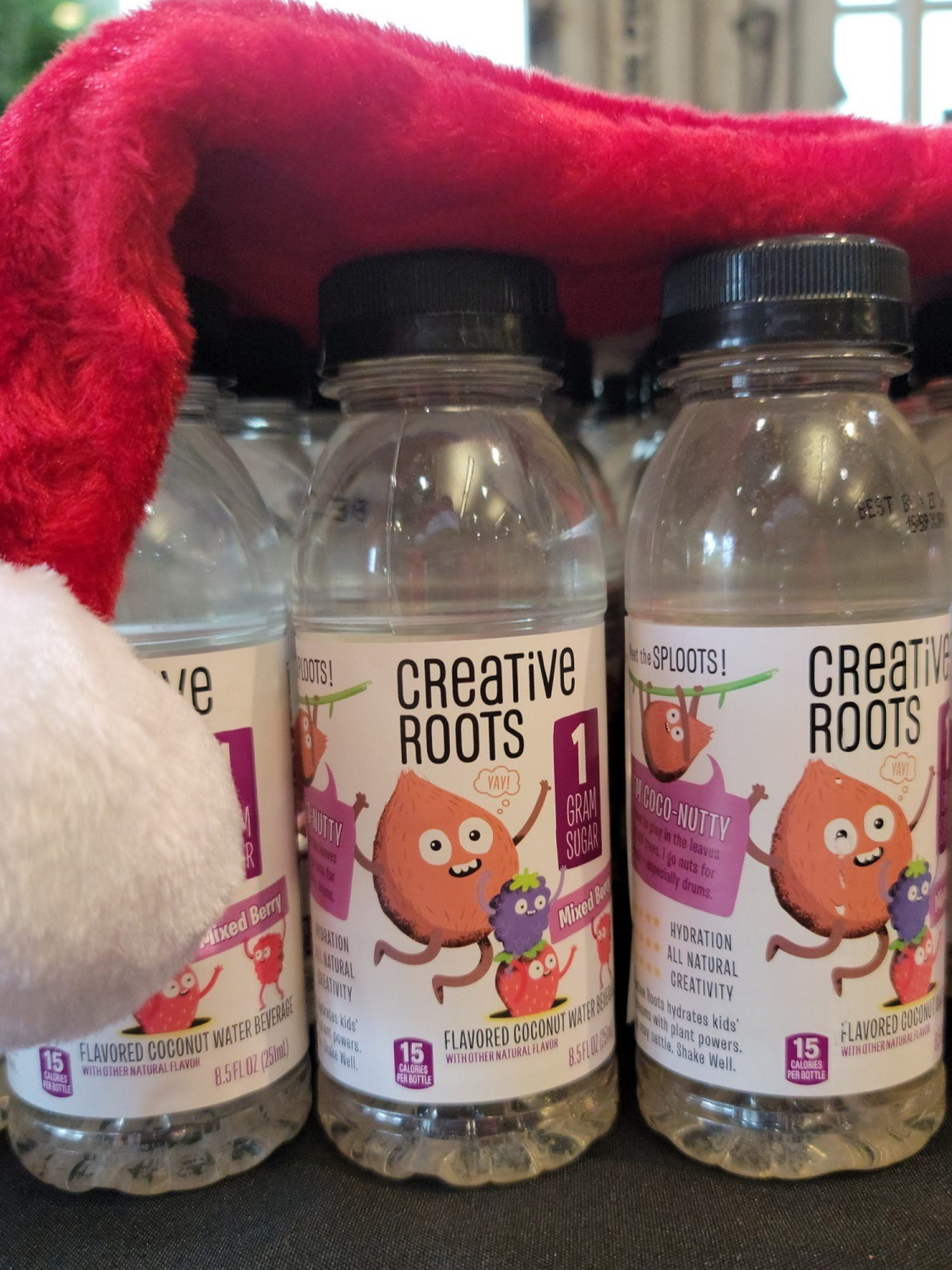 After we had our own sampling fun we had the privilege of visiting friends and neighbors to gift them with bottles of Creative Roots. No one minded trying a free sample and to top it off every house we visited had fans of the product. It's exciting to sample a product that I feel great about and will continue to give to my own children daily. By the way, the size of the bottles are absolutely perfect for school lunch boxes.
| | |
| --- | --- |
| | |
Did you know that according to a study published in the American Journal of Pediatric Health. *1 in 2 kids are under-hydrated? The next time your child is cranky, slow, or sleepy and you went through the normal list of do they need a nap? A snack? A meal? A time-out? Remind yourself it could be as simple as needing more hydration and reach for Creative Roots! Kids are the most creative beings on earth but being under-hydrated impacts their creativity. Let them soar as they were meant to by providing Creative Roots throughout the day. It was concluded in the study, "Nutrition, Urinary Markers and Sleep Habits in Children" **that Creative Roots improves kids hydration. Therefore you can feel great knowing it's a proven scientific fact
Now back to the cheerful and friendly, plant-powered characters included on the packaging - Sploots. The fruit inspired characters encourage overall health and wellness and remind kids of the importance of hydration. Remember when you were a child sitting at the dining room table having a snack or even eating cereal and you would study the labels and read every inch of that clever marketing while you devoured your food? Your child can do the exact same thing with the Creative Roots bottle!
Creative Roots comes in four kid-approved flavors - all with 1 gram of sugar.
Watermelon Lemonade
Peach Mango
Orange Pineapple
Mixed Berry
They can be found in grocery stores nationwide. You can learn more by visiting www.drinkcreativeroots.com.
I received complimentary products for the purpose of this review. All thoughts and opinions expressed are my own.
* Kenney EL, et al. Prevalence of Inadequate Hydration among US Children and Disparities by Gender and Race/Ethnicity: National Health and Nutrition Examination Survey, 2009-2012. American Journal of Public Health. 2015; 105: e113-e118.
** The full report, "Nutrition, Urinary Markers and Sleep Habits in Children" will be released later in 2020 and was funded by Creative Roots.
***Creative Roots contains naturally occurring sugar from coconut water as well as a sugar substitute called Stevia. Stevia contains no carbohydrates, calories or artificial ingredients.
Macaroni Kid can make it super easy for you to find your family fun all year long. Receive a local calendar of family-friendly events each Thursday evening when you SUBSCRIBE FOR FREE!
You'll be glad you did ... and so will your kids!
For even more fun, find us on Facebook, Twitter, and Instagram