Big Boy Toys & Hobbies
is our favorite local hobby shop. The store has an incredible amount of inventory which includes fun for all ages. It's not all RC cars, planes, and boats although those things are loads of fun themselves. Big Boy Toys has been successful because of their amazing owners who have worked hard to provide Acadiana with the highest quality hobby shop possible. They work together and make their team part of their family. When we think to shop local, we immediately think of Big Boy Toys & Hobbies. And now it's time for you to get to know the owners and understand why they do what they do!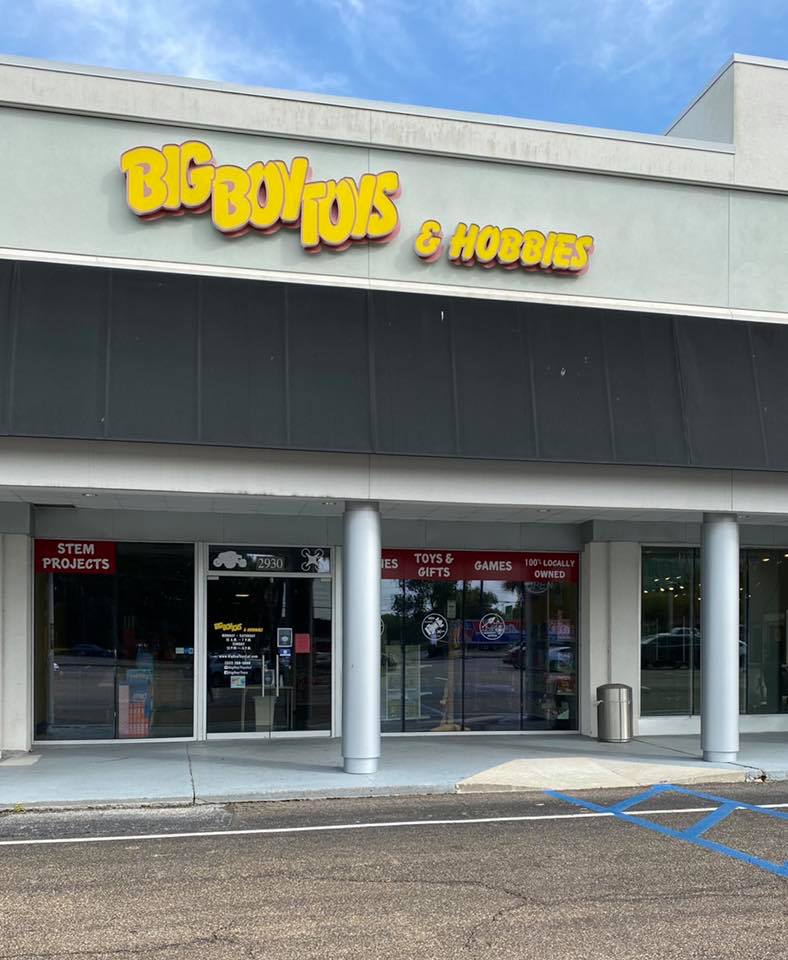 1) What are your names? What is the name of your business?
Jeremy and Melissa Truxillo
Big Boy Toys and Hobbies
2) Any interesting information on how you named your business?
When we first started 16 years ago, all we sold was hobby quality Remote control cars and airplanes so it was a fun catchy name. We have grown into so much more than RC now. We have something fun for big, little, and in between!
2) How long has your store been in business?
16 years. We started in a small 1,000 square foot store located on Feu Follet. Today, our once small shop is 4 times its original size and on Johnston street in the Winwood shopping center. We offer a large variety of products, from remote control vehicles, planes, boats, and helicopters to educational toys, puzzles, games, models, toys, and so much more.
3) What inspired you/encouraged you to start in your business?
Our passion is helping families discover the fun that hobbies can provide. We specialize in helping beginners delve into new hobbies. No matter the age, we want to help you be successful with the products you purchase at our store.
4) What do you love about your job?
Our customers! Being a hobby and toy store, we have a lot of regular customers. Talking to them and building relationships with them is the absolute best part of our job. We also love that most things we sell help families make memories! We get to help find that perfect gift from Santa or that awesome gift for your little boy's birthday. That is incredibly rewarding. We are so lucky that our customers trust us enough to help with those important big-ticket items.
5) What about your job that you love has surprised you over the years?
Working together as a husband and wife team! We both work in the store full time. I know it's not something all couples can do but it works really well for us.
6) Tell us a little bit about your family life.
We live in Youngsville with our 2 rescue dogs, Dixie and Weela. Dixie is a 15 year old Dachshund mix and Weela is a 6 year old Pit Bull. All of our extended family lives nearby as well which includes 5 nephews and 1 niece. They have the important job of being our market research team, lol!
7) What does your family like to do for Family Fun?
We enjoy traveling when we can, spending time outdoors at Jeremy's parents camp, and spending time with our nephews and niece. We are a close family so time together is important to us.
8) What do you do to take care of yourself and how do you make time to do it?
Besides remote control, Jeremy enjoys brewing craft beer and riding his mountain bike on the trails at Acadiana Park. I enjoy reading and training our dogs. Stress and burnout are real so taking time off helps avoid that. A business mentor years ago taught us the importance of taking a "free" day. That means no business calls, e-mails, or work of any kind one day a week. We have a great staff that allows us the ability to do that.
9) What can we do to support you in the community?
If you have never been to our store, come visit and check us out! We take pride in providing a SAFE shopping experience during the Covid pandemic. All of our local businesses need as much support our community can provide right now.
10) What is your favorite spot to go around town?
Bayou Tech Brewing in Arnaudville is our happy place!
Learn more about Big Boy Toys & Hobbies by visiting their website here. And stay up to date on specials and promotions by following them on Facebook by clicking here. Store hours are Monday - Saturday 10 am to 6 pm. Shop for your entire family at Big Boy Toys!
*Big Boy Toys & Hobbies is a long time sponsor of Macaroni Kid and we couldn't be any happier to partner with an amazing local company who values family fun they way they do
Macaroni Kid can make it super easy for you to find your family fun all year long. Receive a local calendar of family-friendly events each Thursday evening when you SUBSCRIBE FOR FREE!
You'll be glad you did ... and so will your kids!
For even more fun, find us on Facebook, Twitter, and Instagram
You May Also Like: