Welcome Back Macaroni Parents We know the weather has not been ideal for us southerners. Personally I cannot stand being in the cold. My kids however hardly seem to notice. It's a very strange thing to me when they act as though the cold doesn't exist. Then again they move constantly and their body heat I would assume stays higher than my own. Because we know you want to be warm we have shared plenty of resources on fun activities inside in this week's newsletter. We would like to encourage you to always read through the articles we post as they provide tons of ways to create family fun where ever you are. Want to know exactly how important we view family fun? Here is a re-cap from a popular post we made this week that just may put it all in perspective for you:
This past Friday my family attended a funeral of great man whose family will miss him immensely. His son gave a eulogy that will be remembered by everyone in that room. The highlight of that speech was all about memories. Of course this stuck with me because at Macaroni Kid our purpose is to help local families find ways to make those lifetime memories that stay around long after you are gone.
-
We heard about family vacations, fishing trips, hunting trips, visits to grandparents houses, coaching sports, and fun snippets that may usually seem like mundane everyday tasks. This is it, this is what life is all about. All that's left and all that matters at the end are the memories you made on your journey through life. Memories are what you leave behind. Are you working to build those memory banks for your children? It takes very little resources to make those memories. For example, my mother (who left this earth 7 years ago) would occasionally pick me up from school out of nowhere to have a day with her. She would pack a lunch for us and we would visit a local park and eat together, walk together, swing together and just be silly together. We never had much $ money to spend but we always had a great time together. I will NEVER forget those days and the time she took to focus solely on me. I never doubted that I was loved as a child because she made sure of this by making memories with me.
-
If at the end of your days your children and loved ones are at your funeral grieving your loss and reminiscing on hundreds of fun memories with you then you have lead a successful life.
(Pictured below are my own family making those lasting memories - I just pray it's enough when my time on earth is done).
We are currently beginning to build the wildly popular Summer Camp Guide. If you have a camp you want to include please email jenniferer@Macaronikid.com for the information to do so. Thank you!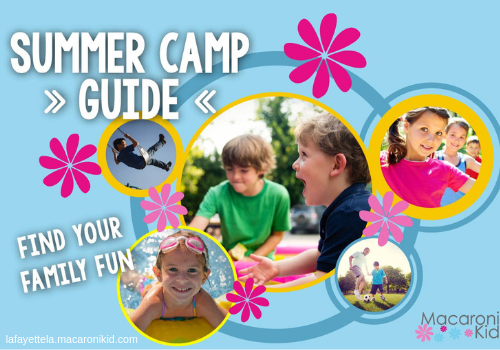 We love feedback! If you want to share an idea, an event, or an opportunity please reach out at jenniferer@macaronikid.com.
Have a great week entertaining, stimulating, and exhausting your kids!