Buying or selling a home is a BIG deal and the right realtor can make all the difference in the world. If you are in the market to buy or sell we highly encourage you to call the Macaroni Kid Approved Realtor, Lulu David at 337-366-8525. She works hard to make sure her clients needs are met and understands all the details that need explaining along the way. We had the pleasure of getting to know Lulu and of course had to share a little bit about her with you all. This way when you call her to become your Realtor she is far from a stranger
1) What is your name? What is the name of your business?
Lulu David , Realtor
I am a realtor at Rhodes Realty
2) How long have you been in your field?
3) What inspired you/encouraged you to start in your field?
I was inspired by custom building my own home in Youngsville. I loved the whole process of home building from the ground up and wanted to help give clients the same satisfaction of owning the american dream.
4) What do you love about your job?
Meeting new people everyday and helping them conquer their goals of home ownership and with sellers, I love helping them move up as their family grows or sell and build equity in one of the best investments in life; REAL ESTATE!
5) How has becoming a mother affected your work?
Becoming a mother has taught me a lot of patience. I listen to my clients . That's what clients want is for a professional to listen and communicate to get the job done.
6) Tell us a little bit about your family
My husband and I have been married for 8 years and we have a 5 year old son and built a home on acreage in Youngsville. We are originally from New Iberia but are both ULL Alumni and enjoy living in Youngsville!
We totally embrace the Cajun culture here. We love the festivals, sports, music, and of course food of Acadiana! We have lived in California and Texas and There is nothing quite like Acadiana.
7) What does your family like to do for Family Fun?
We enjoy cooking at home and having family and friends over to hang out on our front porch or in our backyard on the deck fishing . We love going to the Sports Complex for soccer, football , or baseball with our son.
We also love traveling with our son and introducing him to the many different cultures and foods around the world!
8) What do you do to take care of yourself and how do you make time to do it?
I meditate every morning to start off with positive thoughts and vibes daily. I try to eat as healthy as possible and as organic as we can.
9) What can we do to support you in the community?
Help get my business out there to help moms and families know they can reach me whether they are moving here from other areas or if they just need advice/tips on home-selling or home-buying. I'm here to help!
Want to learn more about Lulu? Follow her on Facebook by clicking here. Send her a message, she will be happy to respond!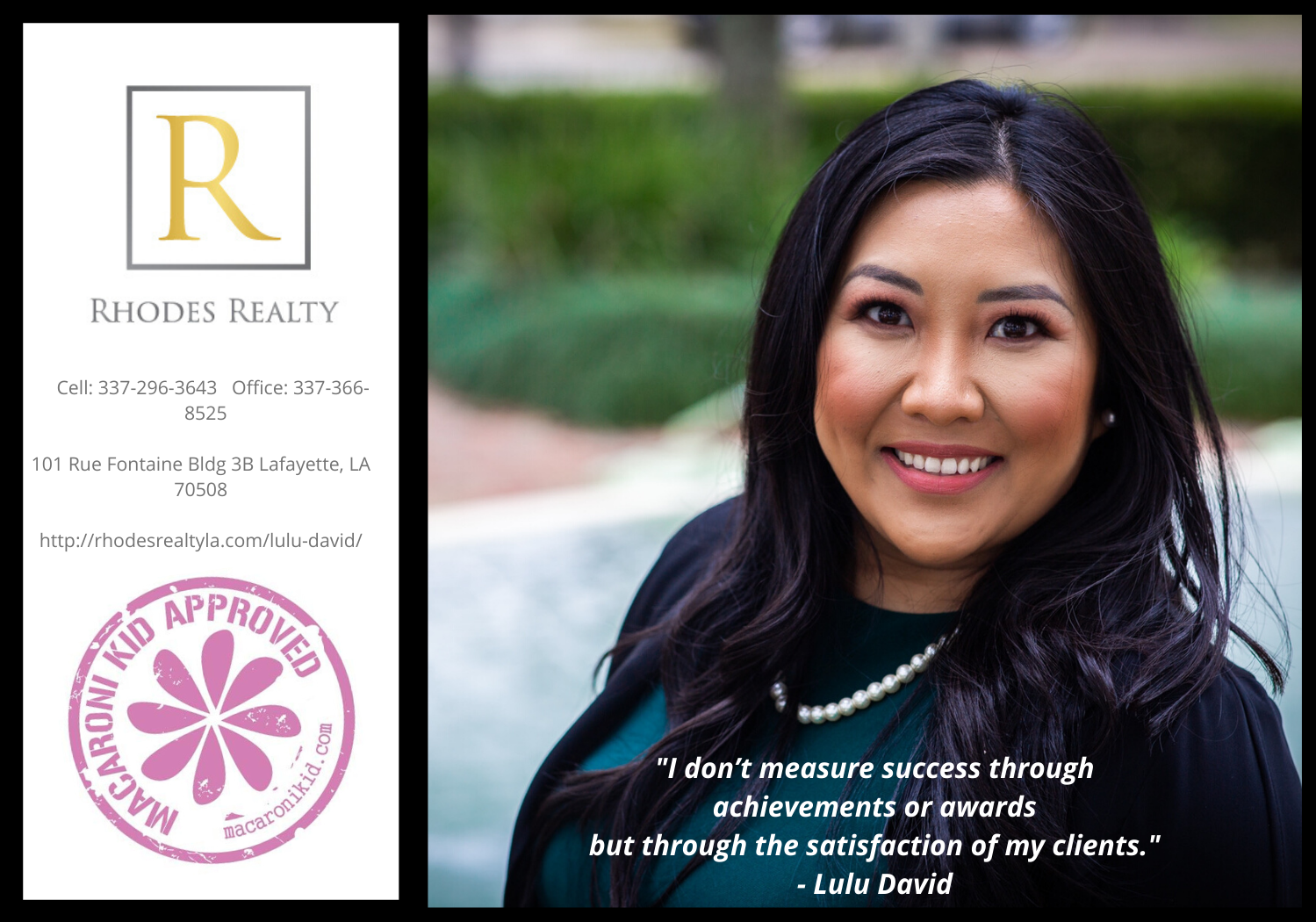 Macaroni Kid can make it super easy for you to find your family fun all year long. Receive a local calendar of family-friendly events each Thursday evening when you SUBSCRIBE FOR FREE!
You'll be glad you did ... and so will your kids!
For even more fun, find us on Facebook, Twitter, and Instagram
You May Also Like: